Featured Full-length Movies:
Now Showing: The Southtown
Old-time musical star Schyler Jarvis, now wealthy, is dying; his last act is a visionary plan for the future happiness of his son, swing bandleader Louis Jarvis, and Honey Carter, daughter of his long-lost love. But crooked lawyer Talbot has a nefarious scheme to get his hands on the Jarvis money...and it doesn't include any happiness for Louis and Honey. Plenty of swing from Louis Jordan's Tympany Five.

Now Showing: The Englewood
Western bandit Kid Rio (Marlon Brando) is betrayed by his partner, Dad Longworth (Karl Malden). Escaping from prison, Rio learns that Longworth has become a wealthy and influential lawman. Rio thirsts for revenge, but bides his time, waiting for the right moment to strike. In the meantime, Rio spitefully seduces Longworth's adopted daughter, Louisa (Pina Pellicer). After killing a man in self-defense, Rio is publicly whipped by the powerful Longworth. When Rio's old gang accidentally kills a child during another holdup, Longworth has the perfect excuse to eliminate the troublesome Rio once and for all by hanging him. But that's not what happens at all. Stripped to its fundamentals, One-Eyed Jacks is a workable Western, worthy of perhaps 90 minutes' running time. But when Marlon Brando succeeded Stanley Kubrick in the director's chair, he allowed the film's 60-day shooting schedule to stretch into six months, and delivered a finished product running in excess of four hours. The current 141-minute version of One-Eyed Jacks isn't as ponderous as some critics have claimed, but it's still too much of a good thing. While Brando the director isn't precisely in the Kubrick class, Brando the actor delivers one of his finest and most focused performances (though he is upstaged throughout by Karl Malden).

Now Showing: The Empress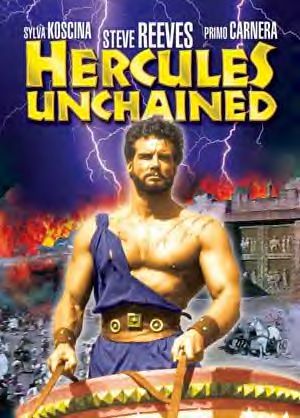 Steve Reeves' second (and last) film portrayal of Hercules is, in certain ways, better than his first. The plot this time is drawn from the legends surrounding the royal house of Thebes, which are most familiar to audiences through the Theban plays of Sophocles. The movie opens with Hercules, his new bride Iole (Sylva Koscina), and the young Ulysses (Gabriel Antonini) travelling to Thebes following the end of the quest for the Golden Fleece (depicted in the previous movie, Hercules). Their journey is interrupted when Hercules must do battle with the giant Anteus (Primo Carnera), whose strength seems to exceed his own until he realizes that Anteus is the son of the earth goddess and can't be defeated on land. On their arrival in Thebes, the trio discovers that the kingdom is in the midst of civil war -- Oedipus (Cesare Fantoni), the old king, is dying, and his two sons, Polynices and Eteocles, are contending for the throne and threatening to destroy each other and the populace. Hercules must leave Iole in the hands of one side in order to try and settle the dispute between the two would-be kings. While en route between the two armed camps, however, he is put under the spell of Omphale (Sylvia Lopez), the Queen of Lydia, who casts out his memory and takes him as a lover, with Ulysses in tow pretending to be his deaf-mute servant. Ulysses must figure out how to keep himself alive, restore Hercules' memory, get them both out of Omphale's grasp before she tires of Hercules and has him killed (as she has her previous lovers), and get them both back to Thebes before the kingdom is burned to the ground. His solution arrives in the form of his father, Laertes, and Hercules' companions from his voyage for the Golden Fleece. They all escape Omphale's clutches and arrive at Thebes as war has broken out between the two brothers and their armies. In a spectacular denouement, Hercules brings his chariot into the middle of the pitched battle, knocking down assault towers and sweeping cavalry before him to halt the battle. Peace is finally restored on a bittersweet note as the two brothers, Polynices and Eteocles, slay each other.


Now Showing: The Kim
Duke Davis has invested all his savings to back his sweetheart, Ethel, in a road show over the old T.O.B.A. circuit, on which they have both been performers since childhood. Marshall, a New York talent scout, makes an offer to Ethel as a single and, to induce her to take it, Duke writes a fake check, made out to him, for $5000 pretending he has sold his contract with Ethel to Marshall.


Now Playing At The SouthtownII
When Otto Preminger was willing to release his drug-addiction drama Man With the Golden Arm without the sanction of a Production Code seal, it proved to be yet another nail in the coffin of that censorial dinosaur. Based on the novel by Nelson Algren, the film stars Frank Sinatra as Frankie Machine, expert card dealer (hence the title). Recently released from prison, Frankie is determined to set his life in order -- and that means divesting himself of his drug habit. He dreams of becoming a jazz drummer, but his greedy wife Eleanor Parker wants him to continue his lucrative gambling activities. Since Parker is confined to a wheelchair as a result of a car accident caused by Frankie, he's in no position to refuse. Only the audience knows that Parker is not crippled, but is faking her invalid status to keep Frankie under her thumb. Gambling boss Robert Strauss wants Frankie to deal at a high-stakes poker game; terrified that he's lost his touch, Frankie asks dope pusher Darren McGavin to supply him with narcotics. When McGavin discovers that Parker is not an invalid, she kills him, and Frankie (who is elsewhere at the time) is accused of the murder. He is willing to go to the cops, but he doesn't want to show up with drugs in his system. So with the help of sympathetic B-girl Kim Novak, Sinatra locks himself up and goes "cold turkey"-a still-harrowing sequence, despite the glut of "doper" films that followed in the wake of this picture. After Parker herself is killed in a suicidal fall, the path is cleared for Frankie to pursue a clean new life with Novak.
Thanks For Joining Us At Our Cinemaplex-Come Again Soon!