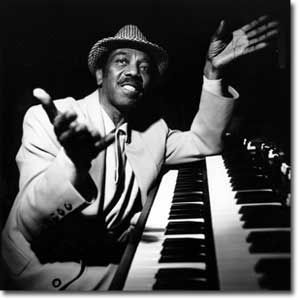 My precious Momma bought me a Hammond B3, and I tried to jam just like Mr. Smith in the 60's. I even taught my 'Birdie', Evan a few tricks when I could. Jimmy made the organ
famous to me and had that distinctive soul sound like no other.
It is one of the classic injustices of the music business that credit is not always given where credit is due. The past few years have seen a huge resurgence in the popularity of the Hammond B3 organ. Artists like Medeski, Martin and Wood are now bringing the B3 back into the public eye especially to a younger audience. A mass of wood, pedals, stops and keys, the B3 is not an easy instrument to play but its sweet distinct sound is unmistakable. Not surprisingly, many listeners are unaware of the man who is truly the master of the B3: Jimmy Smith. Smith has not received the attention that his legacy and talents so richly deserve. Until now.
Dot Com Blues (Blue Thumb) is the new album by the supreme organist in music today. Featuring an all-star cast of supporting musicians including B.B. King, Etta James, Taj Mahal, Dr. John, and Keb Mo, Dot Com Blues proves that though Smith is often thought off as only a jazz organist, he can play the blues with the best of them, which he does literally on this album!
"When we speak about the Hammond B3," states Ron Goldstein, President of The Verve Music Group who worked closely with Smith on Dot Com Blues, "there is nobody better than Jimmy. Though the organ faded into obscurity for a while, now it's on everybody's records! I thought, 'why should the man who is the master remain in obscurity?' I figured the best way to swing the spotlight back around to Jimmy was to have him cut something outside of the jazz marketplace. Why not the blues?"

Goldstein brought in friend and producer John Porter, who has worked behind the boards with an eclectic range of musical acts, from The Smiths to The Go-Go's to John Lee Hooker & Eric Clapton. He's produced five GRAMMY -winning albums, and has also graced several breakthrough crossover blues albums; most notably Taj Mahal's acclaimed Phantom Blues and B.B. King's award-winning, all-star project, Deuces Wild. The result is an extra special, well-rounded, bluesy 11-song Jimmy Smith album that definitely stands up to his finest works.

Each and every track on Dot Com Blues sparkles with the spontaneity and chemistry that filled the studio. Gathering all this talent in the same recording studio was a rare feat. (Don Was and Bette Midler, who were cutting a record next door, stopped by just to watch.) A man of few words, Smith succinctly, but jokingly, described Etta as "fun," Taj as "crazy," and Dr. John as "a mess." With Smith on organ, Harvey Mason on drums, Verve labelmate Russell Malone on guitar, and Reggie McBride on bass, the core band sounds as if they've been playing together for years.


The album kicks off with "Only In It for the Money," featuring the inimitable Dr. John on vocals and piano. Smith opens the up-tempo shuffle with his trademark blazing organ licks. Next up is the organist's own tune, the funky instrumental "8 Counts for Rita," which has standout solos from Smith and Malone, along with the added flavor of Lenny Castro's percussion.

Taj Mahal delivers a scintillating performance on his composition "Strut." Comping tastefully behind Taj and Smith for most of the tune, Malone steps to the forefront for a searing solo that is one of the album's high points. Smith grabs the spotlight on the next track, the blues perennial "C.C. Rider."

In a true meeting of legends, Etta James offers up a smoldering vocal on Willie Dixon's "I Just Wanna Make Love To You," confirming that her vocal chords are clearly as strong as ever. Smith's spry playing on this track is ably assisted by the Texicali Horns and Was (Not Was) vocalists Sir Harry Bowens and Sweet Pea Atkinson.

The tone of the album shifts wonderfully for the next track to Duke Ellington's "Mood Indigo". While listening to playbacks during the session, Smith dozed off momentarily and when he awoke, he immediately corralled the other musicians (including the fabulous John Clayton on upright bass) back into the studio to cut a strong, spontaneous version of this standard.

Contemporary blues star Keb Mo, a longtime Smith fan, was thrilled to contribute his vocals and guitar licks to Smith's lowdown rendition of Keb's newly-penned "Over and Over." B.B. King was also happy to team up with Smith, and their collaboration, "Three O'Clock Blues," finds the old friends reuniting and proving why they are living legends.

The disc's title track, "Dot Com Blues," is inspired by Jimmy's observations on the troubles our high-tech world has created. It not only features classic Smith organ work, but another stand-out solo by Malone as well. This track is followed by the funky instrumental "Mr. Johnson" which again pairs Smith with Dr. John. The latter's influence is clear as the tune features a classic New Orleans vibe.

Dot Com Blues concludes, fittingly, with "Tuition Blues," a slow blues and showcase for Smith's peerless organ prowess; he's still capable of stunning listeners.

Switching into a blues gear in the new millenium, Smith makes the jump to the Verve Music Group's eclectic Blue Thumb label for this new record. By showcasing his enormous talents and including a few old friends, Jimmy Smith's Dot Com Blues should finally bring this master musician the recognition he deserves.
Jimmy Smith, who made the organ into a standard instrument in jazz, died February 9, 2005. Smith began his career in the early 1950s and is credited with creating the distinctive sound of "soul jazz."